Excerpts
1) Excerpt from Chapter One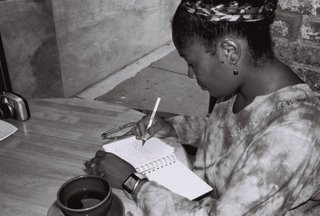 Yesterday, I woke up in the middle of the night sweating. An ocean of tears followed. The clock registered three thirty-six a.m. My psyche was attacked by the same nightmare that has repeated itself for the past several months: my life in living color. This time I was left with a question. Who am I? After the tear storm stopped, I tried to hide under my covers to avoid answering it, but it repeated itself until I turned on the light and reached for the handmade journal that my therapist Francis convinced me to purchase.
I wrote the question in big black letters across the pages of my journal:
Who am I? My birth certificate says that I'm Belle Violette Francois, the daughter of Eugene Jerome Francois and Hyacinth Belle Baptiste Francois. I was born a few minutes after my twin sister, Violet Belle Francois on December 15, 1967. My family and friends say I'm Karma, a nickname my father gave me as a child. When I look in the mirror, I see that I'm a woman with long reddish-brown locs who sees the world through cocoa eyes. My skin is the color of burnt sugar. The French call it caramel, a contrasting force of salt and sugar. But who am I really? If I knew I guess I wouldn't feel like a victim of identity theft. Not the typical kind where someone takes your identity for financial gain. I'm talking about a new and improved kind where life robs you of your hard-earned professional identity and leaves you with nothing more than a pile of ashes and never ending suffering.Do I sound bitter? You bet your sweet ass I am. My life was supposed to be a certain way. I did everything I was supposed to do. And just when I was about to cash in on all of my hard work, I lost everything. I feel like an IDP, an internally displaced person who has been forced to leave her cosmopolitan life in New York City as a result of a human-made disaster called termination of employment. I've been deprived of my livelihood, network of friends, and access to personal services such as my yoga classes at Ta Yoga House; shiatsu massages at Artista Salon; manicures and pedicures at Perfect Polish; appointments with my loctician at Khamit Kinks; chocolate martinis on Fridays at Soul Cafe; Salsa dancing at S.O.B's; and shopping sprees at Carol's Daughter, Ann Taylor Loft, Eileen Fisher, and Moshood.I miss my life. I miss it dearly like a child longs for her mother or a lover mourns the loss of a lover. I do indeed miss my life. I miss who I used to be.
2) Excerpt from Chapter 10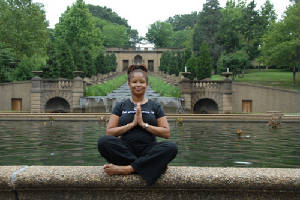 As July's infamous humidity wreaked havoc on the lives of Washingtonians, I tried to keep busy with my newfound routine. Meditation, yoga, and journaling in the wee hours of the morning. Teaching the seven a.m. gentle yoga class at the Center, Monday through Friday. Working on the fall gallery series at Howard University, Tuesday through Thursday. Most days, I moved through the pain in my soul and the sorrow in my heart by releasing my emotions on the pages of my journal. The Sapphire Sista Cypher convinced me that I wasn't the only woman in Washington with heartache. Being in the company of women facing similar challenges inspired me to continue journaling and attending the monthly Cyphers.
After my first Cypher, I surprised myself when I accepted Serengeti's invitation to an evening of Thai cuisine with some fellow sista poets at Bua Restaurant on 17th and P Streets. Resistance was my first response because my interactions with women haven't always been positive. Despite the fact that I had close relationships with several women from college and my New York days, I had more luck with men as friends. My reservations were also tied to the madness that I experienced from a backstabbing sister and controlling mother. Despite my baggage, I took a leap of faith and listened to that still small voice inside me. The voice reminded me of Serengeti's kindness. So I gave the sista poet gathering a chance.
A multicultural collage of seven urbanistas reveling in the spectrum of our feminine creativity sat comfortably around a long table at Bua on a hotter than July Thursday evening. Some of us could easily pass for the sepia version of those bling bling Prada wearing glamour girls from Sex and the City. The rest of us were an interesting mix of colliding colors, patterns, and textures. Our styles fell somewhere in between ghetto fabulousness and bohemian exquisiteness. Fashion designs from Trade Secrets, Stef 'n' Ty, Denise Goring, Moshood, The Tibet Collection, Ann Taylor Loft, Target, Filene's Basement, and Eileen Fisher enhanced our womanly curves in all the right places. Belts, baubles, and a bonanza of diamonds, fresh water pearls, gemstones, Swarovski crystal rondels, glass beads, vintage, and African- and Asian-inspired jewelry and accessories dazzled our outfits.
The waiter kept coming back to our table to take our order, but we were knee deep in a discussion regarding Black women's fiction. We all agreed that fiction allowed Black women to see images of themselves that were not regularly portrayed in mainstream media. However, our differences separated us into three camps. Serengeti, Kalahari, Ma'at, and I were members of the first camp. Serengeti pompously described us as people who appreciated "literature withbeautiful language and richly layered themes depicting African American life." She even listed the names of certain authors such as Ann Petry, Nella Larsen, Zora Neale Hurston, Dorothy West, Paule Marshall, Alice Walker, Ntozake Shange, Toni Morrison, Gloria Naylor, and Jewell Parker Rhodes. I confessed that I had only read works by Alice, Ntozake, and Jewell, but also enjoyed Chick Lit, the contemporary literary genre that relays easy breezy Cover Girl lipstick tales of the perilous terrain that imperfect career women find themselves in and the impact it has on their psyche, weight, search for love in relationships, career, and wardrobe. Ma'at, Greer, and Yamuna chimed in with a passionate Amen. In a matter of seconds we were now the official members of the second camp: Chick Lit readers. Our conversation about authors such as Sandra Kitt, Sheneska Jackson, Donna Hill, and Tajuana Butler dominated the discussion. When we raved about the storylines and our impressions of Helen Fielding's popular British book, Bridget Jones' Diary, Serengeti got on her high horse and criticized us.
"I don't understand how you can enjoy those Easter egg pastel-colored books with retro images of martini glasses, trendy purses, and spike heel pumps that most women in the real world would not even be caught dead in. Tell me what do you sistas exactly get for the money that you spend on mind candy with plots involving upwardly-mobile, designer clad, paper doll characters engaged in daytime television drama in urban scenes? Don't bother answering the question because the mere fact that you read that deathless prose is a smack against all of the gains made in the feminist movement. Your preference for this trash threatens to flood the market in women's reading."
I wanted to interrupt her, but what good would it do. As a self-proclaimed champion of high culture, she obviously didn't get the humor we found in reading stories about women that made us laugh without having a panic attack over what it says about women as modern feminists. So I joined Ma'at, Greer, and Yamuna in disregarding her comments. That's when I learned that sometimes you have to ignore Serengeti. Like most of us, she was a complex woman with a multitude of layers and conflicting interests such as feminism and capitalism. Harmony was restored to the group when we all discovered our love for erotica. Sunee, the quietest one in the bunch, shared the titles of her three favorite books. We burst into laughter and sounded off a chorus of hallelujahs because we each owned copies of Erotique Noire, The Bluelight Corner, and Dark Eros in our personal libraries.
3) Excerpt from Chapter 10
A few hours later, Serengeti called to tell me that the location of tonight's Sista7 gathering had changed to Greer's apartment. I didn't feel like going given all of the drama from Branford, Laurence, and Momma's revelation about Daddy's indiscretions. The only thing I wanted to do was hide in my bed underneath my comforter and pillows. When I told her that I might not come, she didn't ask me any questions. She just reminded me that I always had an open invitation. Her understanding made me do a complete U turn and show up.
Greer was grappling with the news from her parents that her immediate family would not be attending her wedding because Niran was Thai and they both practiced Buddhism. She was devastated by their decision. I couldn't see the problem they were having with Niran. In the short time that I have known him, he appeared to be a great guy who loved the ground Greer walked on. We were all baffled by her family's response until she explained that they wanted her to marry a good ole' Baptist Black man. When Greer calmed down, she admitted that she wasn't really shocked by her family's response since they never warmed up to Niran in the three years they had been dating. They tolerated him to a degree and always chastised her for meeting him on line at Love@AOL. Greer's missionary mother referred to Internet dating as the Devil's playground and condemned anyone who participated in such sinful activity. That comment alone let us all know that Greer and Niran never stood a chance with her family. The saving grace was that at least Niran's family embraced the couple.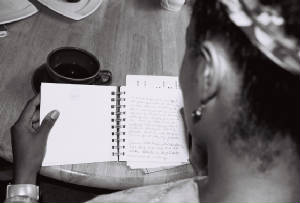 After listening to Greer bear her soul about her family drama and witnessing Sista7's loving response to her, I felt more connected to the group. When it came time for me to give my life update, I opened my journal and read a portion of what had been troubling my heart for the past two months … my feelings for Branford.
Last week, I couldn't stand the pain any longer … the sorrow in my heart had overwhelmed me to such a degree that I gathered all my stuff and got on the first red eye heading east of my past and straight to my next destination. I wanted to fast forward to my next series of blessings, but my past wouldn't let me go. My present was full of tears intermingled with thoughts of why love with him was not possible. My future was blocked. The only safe place I had to rest my weary head was purgatory. It feels like my residence here is permanent. They keep telling me that it is temporary … for the time being, but no one in this damn place has informed me of my date of release. It is an unknown entity that I struggle with. Why did parts of my soul insist on sending the entire soul into this place of obvious danger? Glimpses of what it was like to be in his presence consume me. We were so in tune with each other on so many levels. The sweetness that we could have shared was impossible. The memories keep coming. How long must I exist in this place of pain and sorrow? It hurts so much that I wanna awaken love for love's sake even though I know it is wrong. My saving grace has been the holy scripture: "Do not arise or awaken love until it so desires." Melancholy sadness always fills the air when I reach this point in my process. Flashbacks of unwise choices that caused expensive pain pop up reminding me that all of my accounts are overextended. My heart is in debt. My soul is in bondage. My mind has been foreclosed upon. I am a fire sale waiting to happen. Today I reread the scripture…inhaling it as I have come to do. I chant it in the back of my mind so I will never forget that only Creator can bring love near. Not me. Not begging. Not pleading. Not becoming a sacrificial lamb. My prayer is to finally let go and give way to the flow of divine order. Hopefully the echo of scripture will be the wisdom my heart needs to heal itself so the next beloved can appear.
After I finished, Serengeti hugged me and whispered in my ear, "That took a lot of courage to share."As the tears rolled down my face, the other members of the Sista7 extended hugs. Their unconditional support was more than I was prepared to receive. It was a blessing I hadn't planned for, but definitely needed.